Encouraging potential through horses and farming
We accomplish this in two ways.
First, through our workshops and classes for youth and adults in various subjects like raising chickens, gardening and scout merit badges.
Second, through our non-profit foundation that provides The Horse Boy and Movement Method Playdates for children with autism and their families.

Located in Porter, TX, approximately 35 miles north of Houston, and established in 1998, One Acre Farm is a small family homestead and, since 2005, has provided educational workshops for adults and youth interested in small scale sustainable living. The interest in 'urban farming' and 'mini-farming' is rapidly growing and we strive to help people achieve their goals for applying these skills to where they currently live or in preparation for moving to their own homestead. For youth, we have programs for homeschoolers and help teach them the foundation of farming skills. We also have classes meeting the criteria for merit badges in various agriculture subjects. For a complete list of all the workshops and classes currently provided, please see our programs page.

In Summer 2016, One Acre Farm received training and certification from The Horse Boy, as "1 Star Apprentices and Mentors" of The Horse Boy and Movement Method. Both methods of sensory experience are science backed approaches that show how movement helps builds the brain, learn and break free. One Acre Farm provides private session playdates specific for children with autism and their families. Our goal is to provide these programs free of charge for these families. The programs are not a replacement for any therapies or schools a child may be attending, they are an added resource and positive experience for not only the child but the whole family.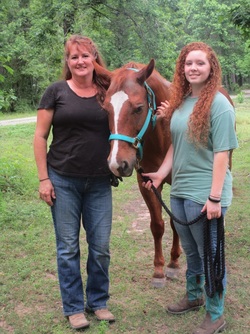 Dynamite Duo


Catherine Griffin and Nicole Jones are a mother/daughter team of educators and farmgirls on a mission to encourage others potential through horses and farming.


---
Catherine Griffin
Owner of One Acre Farm
Co-Founder of One Acre Farm Educational Foundation

*Texas State Teacher Certification in Elementary Education with specialization in Early Childhood and Reading
* Former public school teacher
* Specialized tutoring
* Homeschool educator for 18 years
* Certified as a 1 Star Mentor in Movement Method
* Small business owner
* Small-scale farming enthusiast and educator to local community
---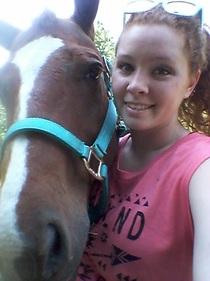 Nicole Jones
Co-Founder of One Acre Farm Educational Foundation

*Certified Montessori teacher
*Certified as a 1 Star Apprentice in Horse Boy Method & Movement Method
*Volunteered and worked in various areas involving children/adults with autism and other special needs including: Therapeutic horse riding, ABA behavior therapy, summer camps, and in-home care
*Horse rider for 16 years



---
Mission Statement
Our mission at One Acre Farm is to provide educational information and skills relating to small scale sustainable living and farming to children, youth, and adults.

Our mission at non-profit One Acre Farm Educational Foundation is to provide specialized programs for families of children with autism or similar special needs that encourage exploration, communication, and potential.